Here's What I've Been Working on:
The 5-Day Fasting Mimicking Diet (FMD): My DIY Version
A series of blog posts (and videos) where I give you daily updates on my experiences with Dr. Longo's Fasting Mimicking Diet — but it's a do-it-yourself version based on published papers and Dr. Longo's patents, all with fresh, home-cooked meals. You might call this the Holy Grail of fasting: all the amazing anti-aging benefits of a fast, but you get to eat, too! — Now updated with results of round TWO of my DIY FMD: blood glucose and blood ketone measurements and a large drop in cholesterol numbers! AND, with answers to your most frequently asked questions: how to prep? can I substitute foods? can I have coffee? What do I eat on refeeding day?
These are Some of the Topics I Research and Cover in My Blog Posts
I'm fascinated by the amazing effects diet and nutrition can have on your body and how you feel!
Feeling good is great; LOOKING great is even better! 🙂
I love nature, travel and adventure. It's what makes life fun and exciting for me. Two week survival trip in the jungle? Sign me up! — What sparks you?
I'm always looking for I'm things I can do at home and which I can easily integrate into my day. But what is best? HIIT? Strength training? Flexibility? Endurance?
I look at the fascinating advancements in neuroplasticity and what that means for brain power at any age. I review nootropics, supplements and brain games that enhance brain processing speed, cognition, and intelligence.
Stress is one of the top contributing factors to aging. Anything we can do to alleviate chronic stress is a huge plus. I'll look at meditation, journaling, connection, purpose and finding your "spark," along with some healthy living ideas.
Interested in Doing the Fasting Mimicking Diet Yourself?*
Head on over to the section on Diet and Nutrition for more information, recipes and a free copy of the nutrition tracker I developed to use for my DIY version of the FMD. It's a handy tracker for macro and micronutrients of a variety of plant-based foods allowed on Dr. Longo's Fasting Mimicking Diet. *
* Note: In his book The Longevity Diet, Dr. Longo expressly states that he does not recommend doing a "home-made" version of the FMD because it may be ineffective and potentially harmful. I am not medically trained, and nothing I say on this site or in my videos should be construed as medical advice. If you plan on doing a fast, do your own research and check with your healthcare provider.
Need A Little More Adventure in Your Life? Check Out My Two Week Survival Training in the Jungle!
Read about my recent trip to the jungle of Guyana, where I was trained in survival skills for 7 days and then had to survive on my own in the jungle for several days.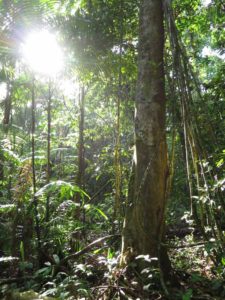 If you're not ready to read the detailed journal of my trip (Jungle Survival Journal), and want to get right to the good part, read about my experience in the isolation phase: making fire in a tropical rainstorm, getting lost and dining on grubs!
Interested in Learning More?
I'll let you know when I have new insights to share, new test results, or completed experiments. I write infrequently, so you won't be inundated with emails. And you can unsubscribe at any time.
Interested in getting the nutrition auto tracker for my DIY FMD? Or the exact recipes I used for my fresh food Fasting Mimicking Diet? Sign up below!
Leave your email address below and I'll send it over to you.