All my worries about having overweight luggage are for nothing: this morning, I gave Ian my empty camera bag with my kindle and my big water bottle and that alone probably put me at the correct weight. But the airline employees don't even check. And some of the other people have heavier luggage than I do.
My usual modus operandi: I plan, I scheme, and then nothing happens and all the mental worry was for nothing, LOL. There is a lesson here somewhere. BTW, no word from the guy who was trying to make it to Georgetown this morning. We end up leaving without him since the flight cannot wait: weather is coming.
The flight is a bit longer than the one to Kaieteur Falls, about 2 hours. I take lots of pictures. Puffy white clouds. Rainbows. Really gorgeous.
We fly over mining camps, rivers, and flowering pink trees that stand out from the usual green of the canopy.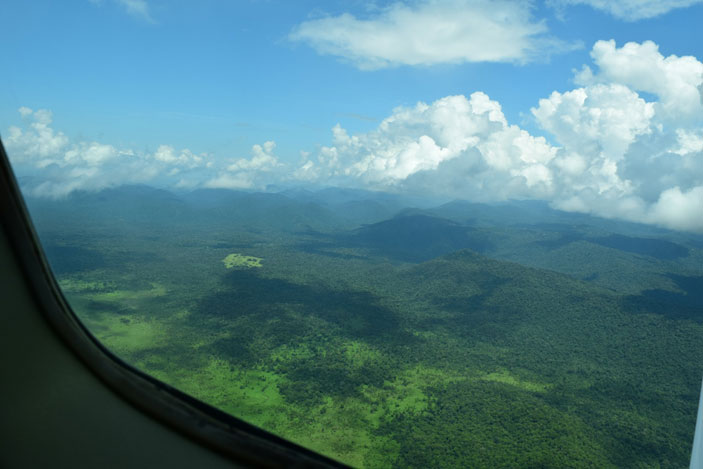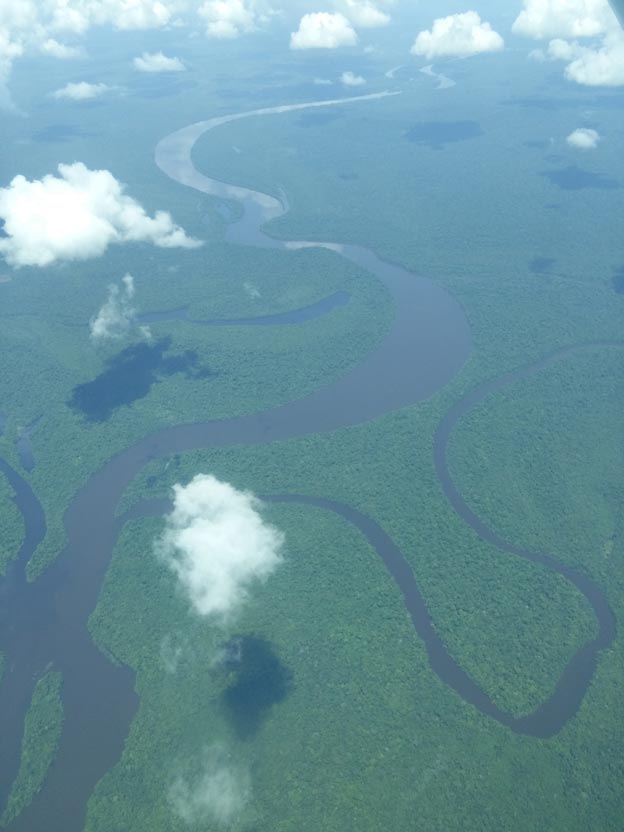 And when I think about it, I sort of have to pinch myself: I'm flying over the freaking rainforest in a small plane, on my way to a survival trip, with these really cool guys. I find myself grinning like a maniac and just hope that the others don't think I'm demented.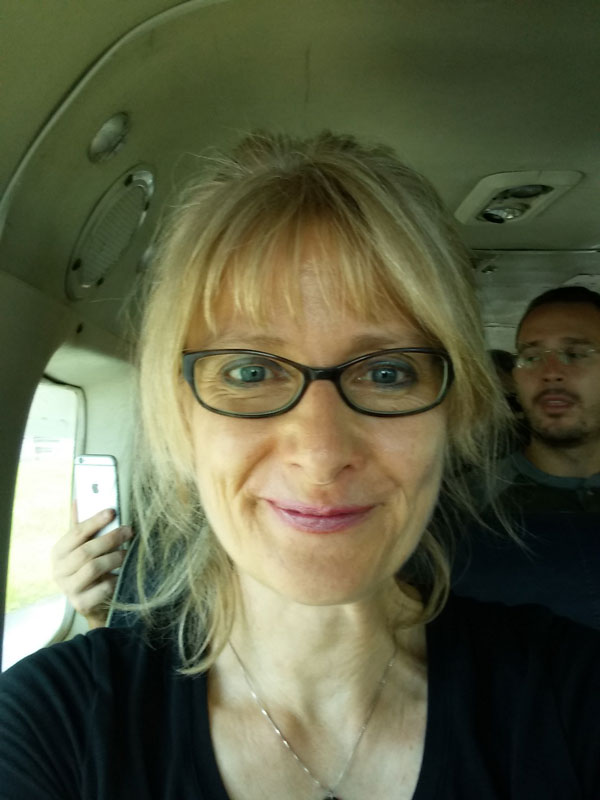 Just before we get to Surama, we hit rain clouds. The rain beads off the windshield, and I can barely see the landing strip in the distance. Everything is hazy with rain.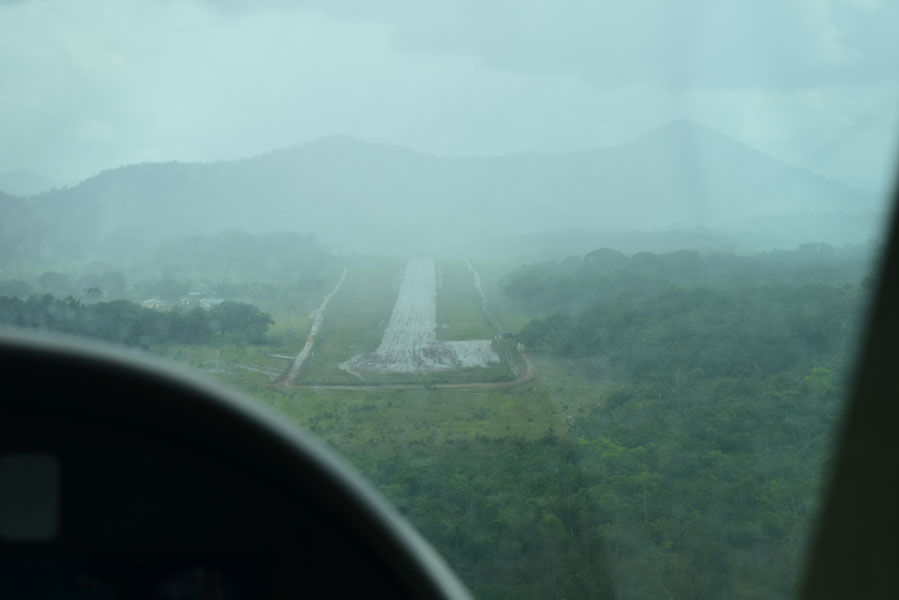 Our pilot sets us down smoothly. Like the taxi driver yesterday, she seems supremely confident in her abilities. I know nothing about gender equality in Guyana, but in a country that is essentially Third World, these two women who are in jobs that are traditionally male, strike me as very advanced.
A truck with seats mounted to a wooden plank floor, roof covered with a tarp, picks us and our luggage up at the airstrip.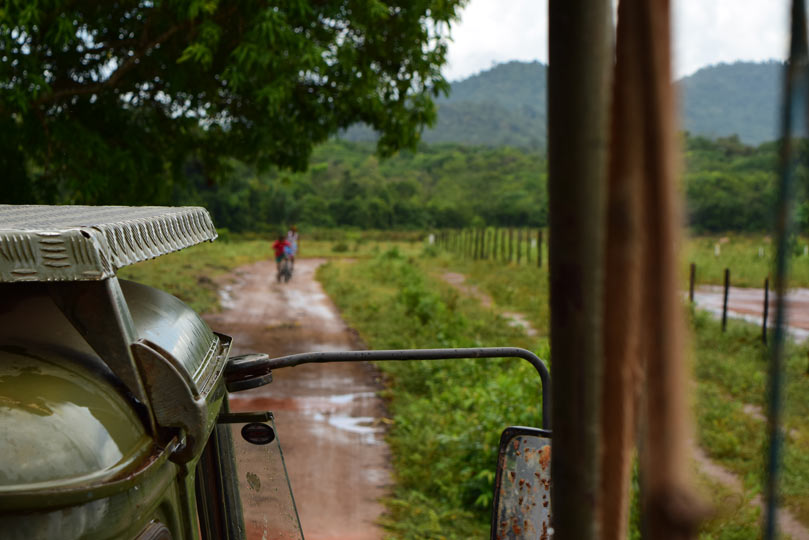 In the rain, we drive to the Eco Lodge which is a about a kilometer from the airstrip and the village. We check in: the guys share 3 benabs (Amerindian cabins), Ian and I are in the private rooms of the "new" building.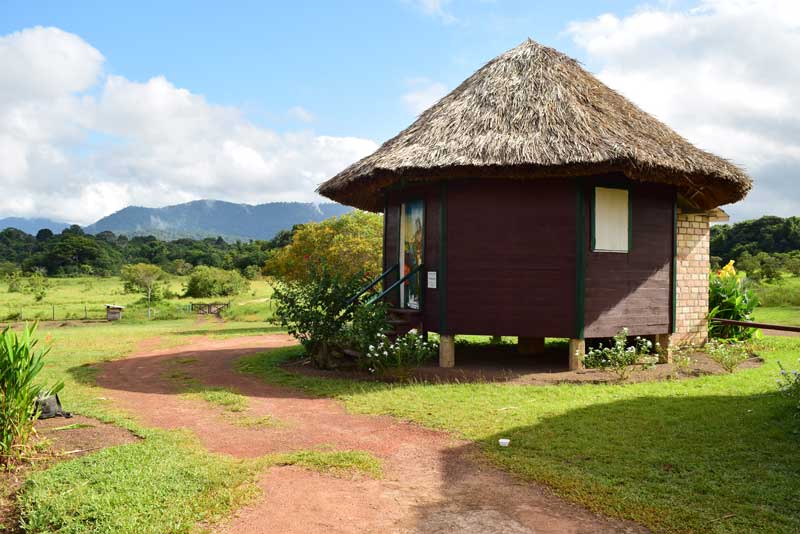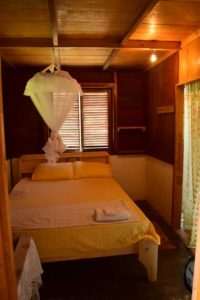 My room is small but very clean and friendly. No window screens, and the shutters are open to let the breeze in.
There is a space under the roof too, where bats can come in and hunt mosquitoes at night. The bed has a mosquito net. Cool! I have never slept in a bed with mosquito netting before!
The bathroom is separated from the bedroom with a shower curtain. Toilet, sink, and a shower area with a hole in the floor for drainage.
The shower is cold water only, but the water everywhere is well water and fine to drink without purifying (we all trust that and drink and nobody gets sick). Nice to be able to put your toothbrush under the faucet!
We meet in the main building for lunch. (All locally grown food, meat is raised and harvested there, as organic as it gets.)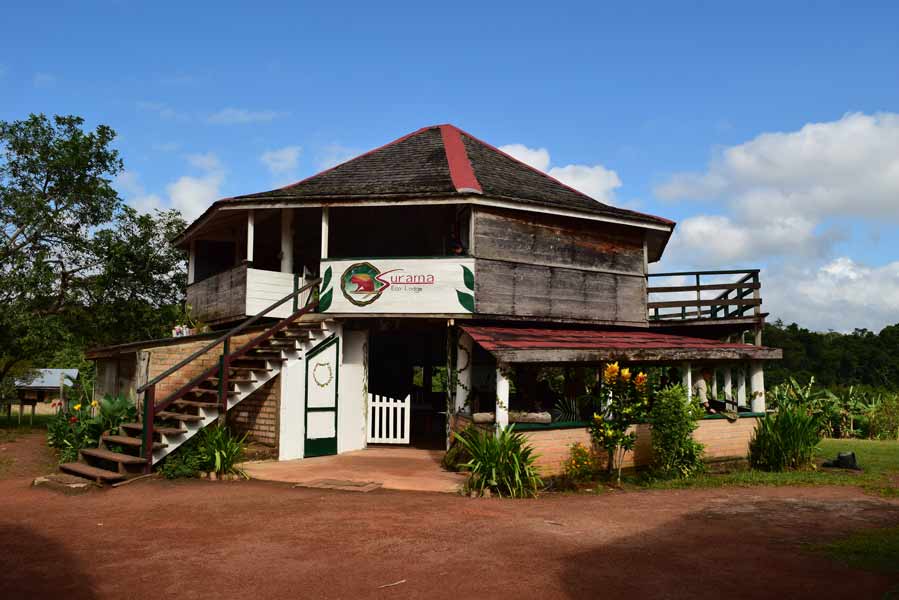 Then we bring our stuff into the ground floor of the lodge, so Ian can check what we have and we can ask him questions.
We go down to the storage shed for "kit issue:" we each get a camo backpack, dry bags of various sizes, a camelbak, tarp and hammock, a belt kit, water bottle and cup, mess tin, and we each get a brand new machete in a Bushmaster's leather sheath. — We're still clueless, but more official-looking now! I get better insect repellent than what I brought (Ian says lotion is useless; you need spray), and I also get a folding knife that I tie to paracord, and hang around my neck.
We pack our backpacks in the main building, try them out to make sure the load is evenly distributed, nothing pokes, etc. Whatever we're not taking, can stay locked up in the storage shed until our return.
Ian encourages us to organize well: things that get used often or that are important, on top of the pack, things like the tarp and hammock on the bottom.
Everything electronic, needs to be double and triple wrapped in dry bags, with big gauze bags of silica crystals (some of us have brought the little "sugar packets" of silica, but Ian says those won't get rid of enough of the moisture and offers us the big bags instead).
When we're done, we get to weigh our packs. Most people come in at 42 pounds. Then add several more kilos for the water, and the weight of belt kit and machete.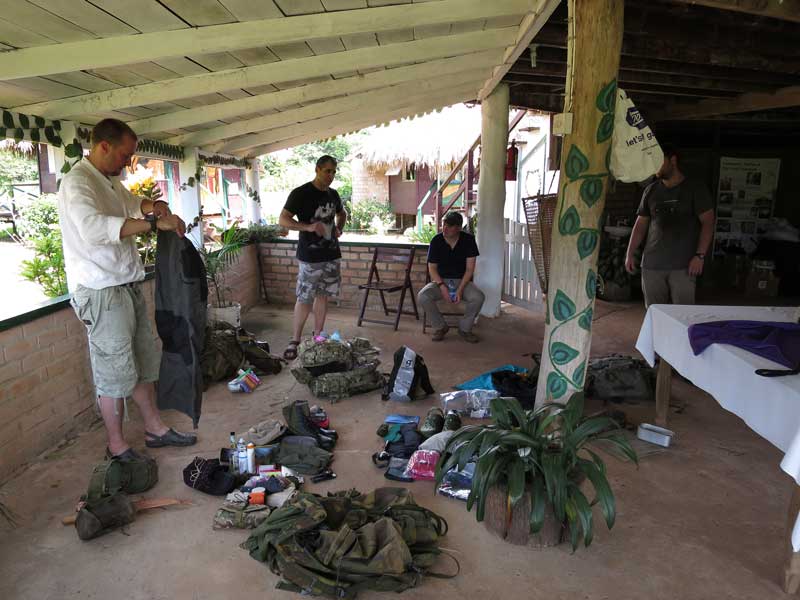 After dinner, we hang out in the "Red Howler Bar" upstairs. We sit around one large table with benches, and a few hammocks. The rain stopped sometime this afternoon and we are all in an anticipatory mood. It's about to get real!
Click here to find the full list of posts: My Jungle Adventure