I wake up early and take advantage of the hotel's not yet overloaded wifi to book a Caribbean Airlines flight for Saturday afternoon, direct to JFK, on Travelocity. $800 out of my pocket. Ouch. But I still haven't heard from Fly Jamaica (even though they promised to call me to let me know when the rescheduled flight would leave).
Based on what the cab driver's wife told me last night (her sister was on Fly Jamaica from Toronto and supposed to come in last weekend, but her flight had been canceled for 5 days in a row), it doesn't look likely that I would get out of Georgetown any time soon on that flight.
I spend the morning and early afternoon at another hotel: B and C decided to move out of the Status and go to the Sleepin Hotel, which is only a few dollars more per night but a much nicer hotel, with pool, and much nicer rooms, and only a 5  block walk from the Status hotel.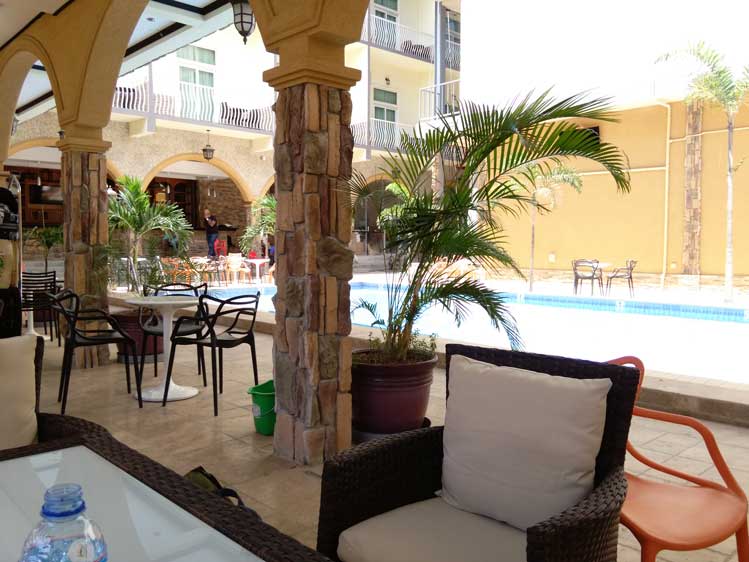 Those of us who are still in Georgetown gather there for lunch and then I leave for the airport, again. I arrive in the middle of a tropical rainstorm, but this time the terminal is full of people, all of whom have arrived well over 2 hours early to check in for the Caribbean flight – when I come 2 hours and 15 minutes before the flight, I am almost the last person in the check-in line. I manage to check in at the computer kiosk, so that goes fast, and then stand in line at immigration, then security. Finally, I'm through and get to go to the waiting lounge. The dinner option is a cart with snacks. Glad I had lunch!
The flight home is uneventful – except that I have 2 seat neighbors who are both remarkable. The girl next to me looks and acts sophisticated, but it turns out she's never flown before. She's actually never been outside her town before today (some coastal village) and she's on the way to New York City to visit relatives and is super excited. She was bummed that she didn't get the window seat because she wants to see the City when we land, so I tell her I'll be happy to switch seats with her when we get close.
She has all sorts of questions about New York and what to do and what to see and how to get through immigration. So cute. So refreshingly unjaded! Her neighbor at the aisle is an older Indian woman, originally from Guyana, who now lives in New York City.
She is incredibly vivacious, has been everywhere, seen everything, and she has such a curiosity about life and people and places, she's hard to resist. Later, we somehow get to talking about Florida and she tells me her favorite safari park is in Florida: "I love seeing the animals free and I love that you can feed the giraffes." Turns out she's talking about Lion Country Safari, one of our favorite places every time we have gone to Florida with our son, Deron! Small world, LOL!
In the huge immigration hall in New York where people from 3 or 4 flights get corralled though the immigration booths, I see a familiar face. Twice I tell myself that it cannot be, but then I stand right behind him: it's D from my jungle trip! He left Georgetown more than 12 hours before me, but had a stopover. Small world again! One last greeting from the jungle!
…And then, a few hours later, I am home. My awesome jungle adventure is over. I have one more day before I must go back to work and before the rest of my family comes back from their vacation in Alaska. One day to rescue some of the magic of this grand adventure and figure out a way to infuse it into my "normal" life.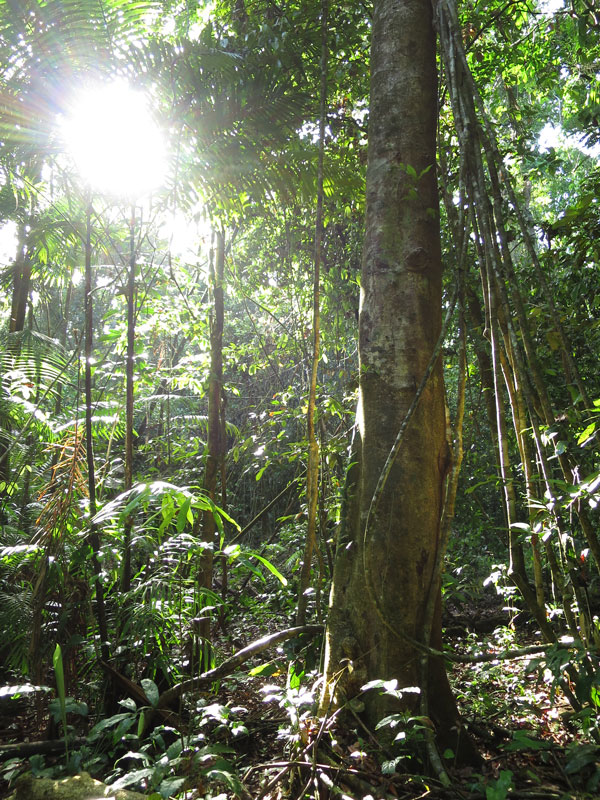 Click here to find the full list of posts: My Jungle Adventure