Whoohoo! I'm on the way to the airport, excited and with a little trepidation – yes, I'm really doing this! I get to JFK before 7am…and, even though I'm here in plenty of time, I'm almost the last person in a long snaking check-in line.
Everybody has at least two bulging suitcases. Check-in is painfully slow and seems very disorganized.
Looks like a lot of Guyanese are going back home for vacation, bringing stuff home. In line with me are a bunch of women traveling with several children each.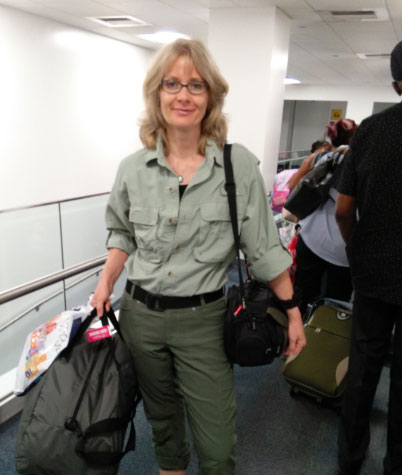 Some get sent back by the check-in agents to repack their suitcases to make sure neither is overweight.
They line the children up and each gets items to hold: the stuffed animal for the toddler, the older one gets the family size pack of diapers, the other kids some other unidentified big package, and they reorganize and repack right there in the corner of the check-in hall.
Man, am I glad I only have a carry-on! The check-in agent looks at me like I have two heads when I tell her I only have carry-on luggage.
Fasten your seat belts (and keep them fastened!)
The plane is an old Brazilian plane (clue: the Portuguese warnings on the tray tables) and looks like it was decommissioned in the 1970s. It has the tiny boxy fold out TVs in the ceiling of the aisle. Going to the Islands, Maaaaan!
The atmosphere on board is relaxed and party-ish. Except, there's no food. And only one drink service on the 6-hour flight (full disclosure, I fell asleep at some point and may have missed the second beverage service, but usually I wake up for stuff like that).
Landing in Paradise?
We land at Cheddi International. In my pre-trip plans, I figured, on my return trip, where I arrive back to Georgetown in the afternoon and have a flight out that same night, I would go to the airport early, have dinner there, maybe do a little duty-free shopping and then fly out. Yeah, well, that gets revised immediately as I see the airport.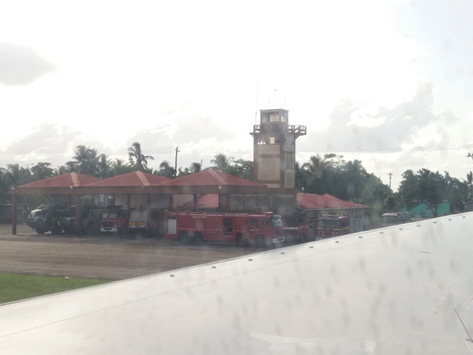 I am told later that the airport was built on a British airfield from the 1940s. Looks like the tower building is definitely historical. Supposedly the airport is under construction due to expansion – the taxi driver tells me later that they really need a bigger airport because they have so many flights now. In my mind, I'm thinking JFK, with 150 flights an hour taking off and landing, so I ask him how many flights they have.
"Six!"
"An hour?"
"No, six a day!"
Excuse me…
The temporary arrivals hall is about four times the size of an average US classroom, and has a variety of counters (VIP, crew, foreign nationals, residents, etc).
Turns out they all mean nothing. Wherever you line up, they wave you to the one long, center line. One line for wheelchair passengers, one line for everyone else.
After a while they start pulling out the families with small children and they get processed faster. It's hot and I start sweating in my long sleeved safari shirt. We inch our way forward. I strike up conversations with the women around me. Some woman a few places down the line makes eye contact:
"Excuse me, are you a reporter?"
I'm surprised by the question, maybe a little flattered. "No, just a tourist. But I do like to take lots of pictures."
"Well, I saw your camera, and the way you are dressed. You look like you're going to the interior."
"I am! Just not as a reporter. More of an observer."
"Well, and to go on a jungle survival trip." I tell the women that and they look at me like I've lost my mind.
Reminds me of the looks some of my colleagues gave me when I told them about my jungle trip: "You really WANT to do that?"
I get through customs with no problem; they just want to know if I'm bringing electronics (I tell them I have a camera). Then I get a cab to Georgetown.
I ask upfront what it's going to cost. The guy tells me $30. Higher than what I heard, but whatever. I'm in no mood to haggle.
The Marriott is in a weird part of town: right next to a container port and industrial looking warehouses, and the Seawall (the beach, boardwalk, whatever that would be called somewhere else), but it's really not developed, no beach to speak of, and, I was told, not safe.
There is a heavy duty fence between the pool of the Marriott and the beach, with security button and all. I'm prepared to go out and then walk around to the front entrance to come back in, when I notice the padlock and the thick chain wound around the gate. Nobody is getting in or out here!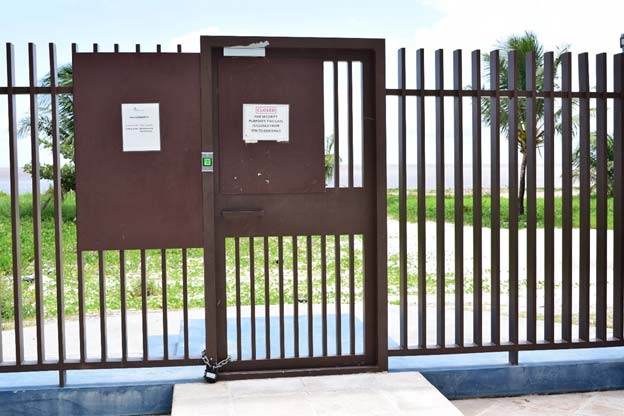 Dinner is an uneventful buffet with local dishes (lots of sweet sauces on meat and fish). Room is nice, service international standard. One last day of luxury before the real trip starts tomorrow!
Click here to find the full list of posts: My Jungle Adventure