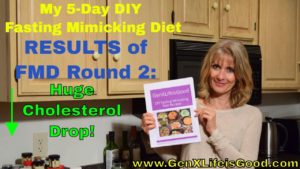 About 6 weeks after I completed the first round of my DIY version of the FMD, I did it a second time, with the goal of measuring results beyond weight, to see whether any of the amazing results Dr. Longo achieves in his clinical studies, with the official Fasting Mimicking Diet (the packaged Prolon FMD diet), would show for me in my fresh food version as well. I also experimented a bit more with the foods I ate, with meal spacing and I kept better track of how I was cooking things so I could share my recipes.
I lost 4.8 lbs during my first and 4.7 lbs during my second DIY version of the 5-day Fasting Mimicking Diet. Like the first time, I lost abdominal fat and "love handle" padding while preserving muscle mass. Take a look at the
video
to see some of my other results: improved blood glucose, change in blood ketones, and the amazing effect the FMD had on my cholesterol levels (down over 25%!). For those who did not watch my other videos, I give a recap of the FMD (what is it and why would anyone want to do it?), how it felt the second time vs the first, differences in using ketostix vs a blood ketone monitor, and I talk about my experience with exercising during the FMD. And, I show off the recipes I used for every meal during my second round of the DIY FMD!
If you don't want t watch the whole video, here are the highlights:
1. After the intro, I show you the collection of recipes I put together with the exact meals I ate during my second round. — If you are a subscriber to my site, you have been sent a download link for the recipes, as well as my nutrition tracker. If you're not a subscriber and would like to subscribe, go to the bottom of this page and enter your email address.
2. Starting at 3:15 min: a quick recap of the Fasting Mimicking Diet and what the benefits are (weight loss, improved biomarkers, autophagy, increased manufacture of stem cells, rejuvenation from within)
3. At 5:15 min: recap of round 1 of the FMD, how to space the different rounds of the FMD, gearing up for round 2, and recap of round 2 (at 8:00 min) – what worked, how did the fasting days go, what was hard, etc.
4. At 9:04 min: results, including weight loss, ketone mesurements (comparing the difference in measurements taken by ketosticks vs. a keto blood monitor like Keto Mojo), and blood glucose measurements.
5. At 13:32 min: a comparison of my before and after cholesterol numbers and how they were measured (I used an at-home test, no doctor's appointment necessary), a dramatic before and after drop in total cholesterol! In the video, I talk about ranges and percentages and don't give the actual numbers, but I will list them here:
Total Cholesterol: before 206, after 150 – reference range: should be below 200mg/dL
Triglycerides: before 92, after 79 – reference range: should be less than 150mg/dL
LDL ("bad") cholesterol: before 138, after 100mg/dL – reference range: should be below 129mg/dL
HDL ("good") cholesterol: before 50mg/dL, which was in the desired range, to 34 mg/dL, which is low
6. And finally, at 17:45 min: my thoughts on exercise, what I did and how it worked for me
If any of you are inspired to do the FMD, fresh food or Prolon, let me know how you make out! I would love to hear how you felt on the diet, what your challenges were and what you would do differently!
If you would like to get a download link to my recipes and my nutrition tracker, you can subscribe below.